Guest Editor: Pierluigi Mazzei
Nuclear Magnetic Resonance (NMR) spectroscopy represents a versatile, robust and advanced analytical technique enabling the acquisition of structural, multinuclear and conformational information on complex molecular systems.
Since NMR represents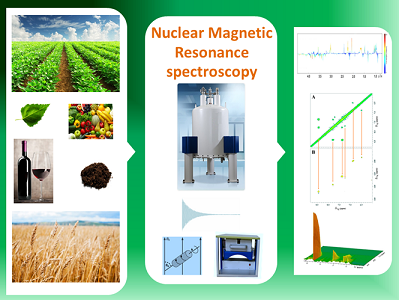 a crucial resource to deal with challenging and complex issues concerning the wide field of agriculture, a number of valuable scientific contributions have been collected in the present thematic series to underscore the relevant potentialities of this technique. In particular, Soong et al. proposed an innovative water-mediated NOE-based technique, referred to as waterLOGSY, to evaluate clay-xenobiotic interactions. Zhang et al. described several case studies to prove the applicability of advanced solid-state NMR techniques (CPMAS NMR) to examine different types of natural organic matter, such as seaweed and pollen biomasses, atmospheric deposition material, sediments and kerogen. Mazzei and Piccolo reviewed the latest representative studies employing HRMAS NMR on systems tightly related to agricultural chemistry and including soil components, plant tissues, agro-food products and in-vivo organisms. Amargianitaki and Spyros produced a review on the capacity of liquid-state NMR-based metabolomics to assess the authenticity of wines and their differentiation according to grape genotype, vineyard properties, geographical origin and wine-making procedures. Cade-Menun provided an essential overview of the most important studies on the application of solution-state 31P NMR spectroscopy for the characterization and quantification of P forms in non-pasture cropland soils. Finally, Capitani et al. summarized a most interesting application of a portable NMR device enabling the non-destructive and non-invasive investigation on food quality and the identification of the effects resulting from processes such as food ripening, drying, dehydration and adulteration.
The information contained in the present featured articles collection emphasize the role that NMR spectroscopy may play in investigations related to agricultural and food sciences and indicate the promising and still underutilized NMR approaches to be applied to future research issues.