Edited by: Piero Baglioni, University of Florence, Italy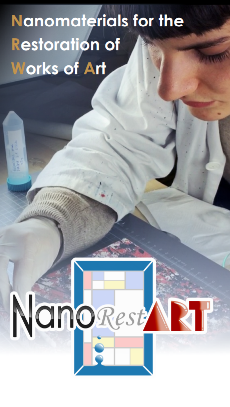 NANORESTART (Nanomaterials for the Restoration of Artwork) was an EU funded project involving 27 partners from 11 countries between 2015 and 2018. In this journal we publish selected papers from this project.
The conservation of modern and contemporary works of art requires advanced solutions at the cutting edge of modern chemistry and material science. To meet these requirements, NANORESTART developed nanomaterials to ensure long-term protection and security of modern/contemporary cultural heritage, taking into account environmental and human risks, feasibility and materials costs. The new tools and materials developed represent a breakthrough in cultural heritage and conservation science and focus on: (i) tools for controlled cleaning, such as highly-retentive gels for the confinement of cleaning fluids based on "green" surfactants and solvents; (ii) the strengthening and protection of surfaces by using nanocontainers, nanoparticles and supramolecular systems/assemblies; (iii) nanostructured substrates and sensors for enhanced molecules detection; (iv) evaluation of the environmental impact and the development of security measures for long lasting conservation of cultural heritage. Within the project the industrial scalability of the developed materials has been demonstrated.
NANORESTART gathers centers of excellence in the field of synthesis and characterization of nanomaterials, world leading chemical Industries and SMEs operating in R&D, and International and European centers for conservation, education and museums. Such centers assessed the new materials on modern/contemporary artifacts in urgent need of conservation, and disseminated the knowledge and the new nanomaterials among conservators on a worldwide perspective.
The new solutions, based on green chemistry, have been used to restore masterpieces by Pablo Picasso, Jackson Pollock, Roy Lichtenstein, Eva Hesse, Giorgio de Chirico, Lucio Fontana, Jean Dubuffet, and others. Extensive dissemination and training on the new products were carried out, both in the EU and worldwide, and some of the project products are already available on the market.