Ana Martins (Van Gogh Museum, Netherlands) and Abed Haddad (The Museum of Modern Art, USA)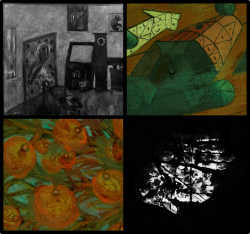 This collection highlights collaborative ways in which scientists, conservators and curators work within and across institutions at documenting and contextualizing the materials and working methods of a global group of artists active in the late 19th and early to mid 20th century. The articles presented here include discussions on artist palettes and medium choices, art historical background, object condition, and preventive conservation. These discussions are greatly informed by the non-invasive and micro-invasive analysis, running the gamut from microscopic to spectroscopic to technical imaging including chemical mapping. This body of research aims at shedding new light on emblematic works and understudied ones, and improve our understanding of the way artists used innovative materials born out of modernity.
Image: Details of technical imaging of Matisse's The Red Studio (1911), Giorgio de Chirico's The Evil Genius of a King (1914-15), Seraphine Louis' Fruits (c. 1929-30) and Jackson Pollock's Number 1A, 1948 (1948).